Why is my Roku Light blinking? There are numerous reasons why your Roku light may be malfunctioning, whether on the Roku player or on your remote. It can be frustrating trying to figure out why something isn't working properly and how to fix it. This is why I've put together a quick guide for common problems with the lights on your Roku device.
If there is a connection or power issue with your Roku device, the light will flash, stop working, or change color. Problems with the HDMI cable, WiFi, or remote pairing are examples of connection issues. Power problems occur when there is insufficient power or when the device overheats. Here is a quick solution.
Why is my Roku Light Blinking and Flashing?
If there is a connection or power issue with your Roku device, the light will flash, stop working, or change color. Problems with the HDMI cable, WiFi, or remote pairing are all examples of connection troubles. When there is insufficient power or the device overheats, power concerns develop.
Read the full article for the full solution.
I will discuss in detail each problem you may come across with the lights on your Roku, and how you can solve each issue.
Get Big Discounts for Internet, Phone, Mobile, and WIFI.
Up to 50% off
Toll-Free Number 1-855-202-7237
(Xfinity, Spectrum, COX, Verizon, AT&T, T-Mobile, etc.)
10 Ways to Fix Roku Light Blinking
1. ROKU Light Keeps Blinking and Flashing
The Roku player has one light and the Roku remote has two lights. In the battery compartment, one of the remote lights can be found. Any of these lights could be flashing at you, indicating a problem with your Roku device.
It's not always a light that flashes, but it could be the TV screen. Whatever your problem is, there is always a reason for it and usually a simple solution.
2. Flashing WHITE LIGHT BLINKING ON ROKU PLAYER
The most common cause of this is a problem with the WiFi connection. You will notice that the light flashes twice in a row. There are a few options for resolving this. To begin, try resetting your router and Roku player.
If that doesn't work, try relocating either your Roku player or your router closer to each other. Having them in separate rooms can sometimes cause connection issues. If this still does not work, you may want to try changing the connection channel on your router.
Fix for Blinking white light
This will differ from router to router, so consult your operating manual for more information. It's also possible that your connections are fine, but the internet in your area is down or the Roku servers are down. Unfortunately, you have no control over this.
However, when the HDMI cable is faulty, some people have reported seeing a blinking white light. If this is the case, you may want to try a different cable.
3. LIGHT BLINKING ON ROKU REMOTE
If you see a flashing light on the front of your Roku remote, you'll need to replace the batteries. If the light in the battery compartment is flashing, this indicates another connection problem.
This light is referred to as a 'pairing light' or a 'pairing LED.' When the Roku remote tries to pair with the Roku player, it should flash. If you are experiencing this problem, I have discussed how to resolve it further down, under 'Roku Pairing Light Keeps Flashing.'
RECOMMENDED POSTS:
4. SCREEN FLASHING WHEN USING ROKU PLAYER
When using the Roku player, some people have reported their TV screen flashing. This may appear to be an unusual problem, but you are not alone. One possible issue is that the 'Auto-adjust Display Refresh Rate' option is not working properly.
In this case, you can turn off this feature in the settings. The procedure for changing this setting is outlined below. Settings > System > Advanced System Settings > Advanced Display Settings > Display Refresh Rate Auto-adjust
If this does not resolve the problem, try a different HDMI cable. The cable may be defective, or you may require a 4K compatible cable instead.
5. ROKU BLINKING TWICE
If the Roku light flashes twice, this indicates a problem with your WiFi connection or the Roku servers. It is also possible that the HDMI cable is faulty. More information is available above under the heading 'Roku Keeps Flashing.'
6. ROKU TV WON'T TURN ON RED LIGHT BLINKING
If the Roku player light is red, it means there is a power problem. A blinking red light indicates that there is insufficient power to use your Roku. Roku players are typically powered by plugging them directly into a wall socket.
You should not have this problem unless your wall socket does not have a normal output. However, if this occurs, try plugging it into a different socket. Some Roku players allow you to power them by plugging them into a USB port on your TV.
The TV then provides power to your Roku device. If you have this set up, the Roku player will take some time to boot up and you may experience power outages. You will most likely see a message on the screen that says "insufficient power" or "USB port will not power this Roku."
To begin, try inserting the USB cable into a different USB port. Some ports have the ability to deliver more power than others. If this does not solve the problem, try replacing the USB cable.
Some users have discovered that the cable included with the Roku player has this problem, but their own USB cable works perfectly. It's possible that it's faulty. If all else fails, plug your Roku player directly into a wall outlet, just as you would a smartphone USB connection. This ensures that the device always has enough power.
7. How to Fix SOLID RED LIGHT
Some people have reported seeing a solid red light instead of a blinking red light. This indicates that the Roku player has overheated. You should also see a message on the screen saying "your device is overheating."
In this case, unplug it to allow it to cool down. Allow at least 10 minutes for the Roku player to cool down before plugging it back in and attempting to use it.
If you experience the same problem, unplug the device and wait 10 minutes for it to cool down. If the red warning light is still on, try leaving it in a cool, well-ventilated, and dry location overnight. When you restart the device, the light should turn back on.
This issue is known to occur in the following scenarios.
Your Roku player in an enclosed space such as a glass TV cabinet.
You sit the Roku player on top of other electronic devices.
There is prolonged direct sunlight on the Roku player.
Once you have cooled the device down, perhaps consider moving it to a different location.
How to Fix Roku Keeps Buffering? (Click Here)
8. ROKU NOT WORKING BLINKING WHITE LIGHT
One of the most common problems with the Roku player is a blinking white light. As previously stated, this is either a WiFi or Roku server connection issue. It's also possible that there's a problem with the HDMI cable. This problem is described in detail under 'Roku Keeps Flashing.'
9. How to Fix ROKU PAIRING LIGHT KEEPS BLINKING
The Roku Pairing Light is located in the remote control's battery compartment. It is a small green light that should be turned on. If it's flashing, it means there's a problem with the connection between the remote and the Roku player.
Follow the steps below to reconnect the remote to the Roku player.
Unplug the Roku device.
Replace (or re-insert) the remote's batteries.
Connect the Roku player.
For three seconds, press and hold the 'Reset' button in the remote's battery compartment.
A pairing notice will appear on the screen after the Roku player has booted up.
Resetting both the Roku player and the remote will allow these devices to find one another again. The pairing process is automatic, so following the on-screen instructions will finalise this process.
10. ROKU PAIRING LIGHT NOT BLINKING
When you pair the remote to the Roku player, the Roku pairing light should flash. As previously stated, pairing begins by pressing and holding the 'Reset' button in the battery compartment for three seconds.
If the pairing light does not flash after you hold down the 'Reset' button, try again. Hold the button down for 5-10 seconds this time. If it is still not working, the batteries are most likely dead and must be replaced.
CONCLUSION on Roku Light Blinking
Unfortunately, these are the only solutions to this problem that we could recommend as tried and true. However, we do not want to underestimate the abilities of our readership. Every now and then, one or more of you will come up with a new and truly innovative solution to a problem like this that we would never have considered.
If you are one of these people, please tell us how you did it in the comments section below. So we can test it out and spread the word to our readers if it works. Essentially, it's all about avoiding a few headaches later on. Thanks!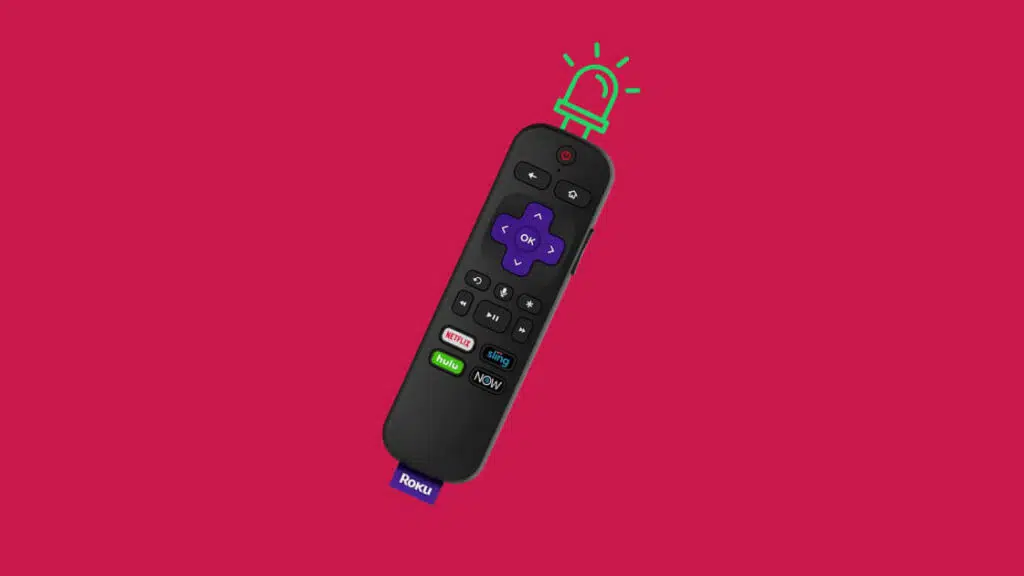 FAQs on Roku Light Blinking and Flashing
Why is Roku not working blinking white light?
Roku is not working for a variety of reasons. Here are some common issues that arise when Roku fails to function properly: Your Roku device has been updated, but you do not have the most recent software installed. Problems with the device, the network, or an ongoing issue with the streaming service.
Why is my Roku light blinking?
This problem could be caused by a variety of factors. For example, if your Roku device loses power, the light will turn off. Additionally, if your Wi-Fi connection is weak, it may result in white light. Another factor to consider is that the Roku itself is broken. It could be a hardware flaw or a software bug. You should contact Roku Technical Support as soon as possible at 1-800-my-roku.com.
Why is the light on my Roku red?
A red light on your Roku player can indicate one of two things. To begin, if the light is red and blinking, the device isn't getting enough power. If the red light remains solid, the device is overheating. Unplug it right away and allow it to cool completely.