During a Netflix marathon, I realized that I no longer watch Cable TV; all I watch is Netflix or occasionally Prime Video.
Furthermore, I discovered that I was paying for Spectrum services for no apparent reason.
As a result, I decided to cancel my subscription. Spectrum retains ownership of all equipment issued to be used with Spectrum Internet services. As a result, I was also required to return spectrum equipment.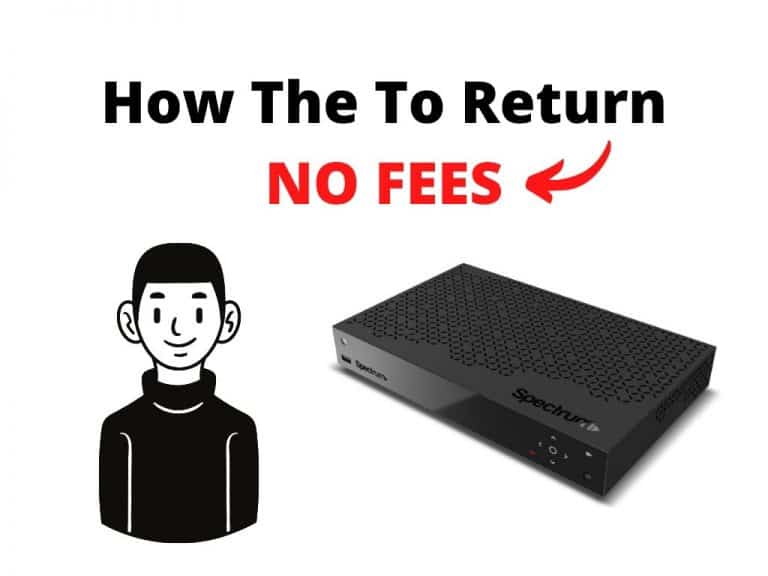 But it turned out to be more complicated than I had anticipated. So I sat down and brainstormed all the ways you could return everything to make it easier for you to do it on your own.
You can return your Spectrum Equipment via UPS Return, FedEx Return, USPS, Spectrum Store Drop Off, or Equipment Pick-Up. Keep your Return Deadline in mind at all times.
Why would you need to spectrum equipment return?
Spectrum provides equipment for use with Spectrum Internet Services such as Spectrum TV, Spectrum Internet, Spectrum Voice, and so on.
If you intend to disconnect or downgrade any Spectrum services, it is your responsibility to return all items leased from them.
You must return the equipment if you wish to cancel Spectrum Internet Service. Then there are other situations in which you might want to downgrade.
For example, if your current internet plan has a higher cap than you really need, or if your Spectrum Internet Keeps Dropping, you'd have to return the modem and they'd send you a modem that would fit the plan you're looking for, you'd have to return the modem and they'd send you a modem that would fit the plan you're looking for.
DO I HAVE TO RETURN SPECTRUM MODEM?
You will be required to return any Spectrum Routers, Modems, or equipment that you did not purchase outright. This typically includes your modem and router (as well as any modem and router setups that are in a single unit).
Other Spectrum components you may have received from the company may also have been received – though these are usually linked to phone or TV services.
Any equipment that you purchased outright from Spectrum (or equipment that you purchased separately) does not need to be returned to this internet service provider.
HOW LONG DO YOU HAVE TO RETURN THE EQUIPMENT?
The next step is to return the equipment once you have received confirmation for disconnection or downgrading. Again, Spectrum has stated clearly in their Terms and Conditions that you must return the equipment within 15 days of confirmation.
If you do not complete it within 15 days, they will charge you a fee. It will be added to your most recent bill, which will include the Applicable Spectrum Unreturned Equipment fee, as well as the cost and expenses associated with unsuccessful attempts to retrieve the device.
HOW TO RETURN SPECTRUM EQUIPMENT?
There are several methods by which you can return the leased equipment. We'll go through them one by one.
1. UPS Return
You can send the equipment back using United Parcel Service (UPS). All you have to do is bring the equipment to a UPS store near you. If you can't find the nearest store, you can use the UPS Store Locator to find one. This service is also available through their website.
UPS is authorized to package and return the equipment to Spectrum, and they will not charge you for doing so. It is completely free. All you need to do is tell them you're a Spectrum client, and they'll handle the rest.
2. FedEx Return
If there are no UPS or Spectrum locations in your area, you may return it via FedEx. They are one of the most well-known delivery service companies, with locations all over the country.
However, there are some restrictions on the types of items that can be returned via FedEx. I'll give you a list of what you can actually send back.
Voice Modems on the Spectrum
Receivers of electromagnetic spectrum
Routers for Wi-Fi
Wi-Fi gateways for DOCSIS 2.0
Modems that support DOCSIS 3.0
Gateways for DOCSIS 3.0
If a return label is included with the equipment, ensure that it is attached to the cardboard box containing the equipment. To avoid damage, remove any old shipping labels and properly seal the box.
Save the receipt and make a note of the tracking number. Then, you can notify Spectrum about the return and provide them with the reference number.
Then, take the box to a nearby FedEx office. Do not leave them at the FedEx Drop Box. They will assist you as needed.
RECOMMENDED POSTS:
3 U.S. POSTAL SERVICE
If you can't find a UPS or FedEx location near you, the US Postal Service is the most convenient way to return the equipment. There are so many retail postal services in the country that you'll have no trouble finding one.
Check that the equipment is still sealed in the same packaging that you received it in. Attach the original shipping box's return label as well. Finally, deliver the package to your local Postal Service.
They will not charge you any fees for returning the equipment, just like UPS. Spectrum is in charge of everything.
4. SPECTRUM Equipment Return STORE DROP-OFF
You can simply drop them off at a Spectrum Store if one exists in your area. You can also use a Store Locator to find your nearest Spectrum Store. This is most likely the simplest and quickest method.
5. PICK-UP OF EQUIPMENT
Equipment Pick-Up is available to Spectrum customers with disabilities. You simply need to contact Spectrum Customer Service and inform them of the return. Then, a technician will arrive to pick up your equipment.
6. UNRETURNED EQUIPMENT FEES
If you do not return the rented or leased equipment after canceling or downgrading your subscription, you may be charged an unrequited equipment fee.
Clients who refuse to return the equipment will be charged a fee to cover any losses incurred during the manufacturing process. This fee will also be charged if your device is stolen or lost. The charges will be added to your account balance.
WHAT HAPPENS IF I DON'T RETURN SPECTRUM EQUIPMENT?
If you do not return Spectrum equipment within the 15-day period, you may be charged additional fees on your final bill.
Spectrum frequently charges any applicable unreturned equipment fees, which can include the retail cost or replacement charges for any equipment that you haven't returned.
You may also be required to pay any associated expenses or charges imposed by Spectrum for simply attempting to recover this equipment.
It's not uncommon for these fees to skyrocket in a hurry, which is why it's critical that you return that equipment as soon as possible.
IS IT POSSIBLE TO RETURN MY SPECTRUM EQUIPMENT TO ANY STORE?
You can return your Spectrum Router or Modem equipment to any Spectrum location. Spectrum has 687 store locations in the United States, and you can return the equipment to the one closest to you.
Find one in your area and pay a visit during business hours — an efficient Spectrum service agent will assist you in returning your equipment with minimal hassle.
IS THERE ANY PENALTY FOR NOT RETURNING SPECTRUM EQUIPMENT?
If the provided Spectrum Modem equipment is no longer in use due to an upgrade, downgrade, or cancellation of the Spectrum service, you must return it to the provider immediately.
If you fail to do so, Spectrum will only charge you a $10 fee to your account. In fact, the full replacement cost of the equipment in your possession will be charged to you.
Furthermore, Spectrum will determine the replacement cost, which can run into the hundreds of dollars. As a result, you should return the equipment as soon as the service is terminated.
Also, when you call Spectrum to cancel service, make sure you specify which equipment you need to return. They will have information about the equipment you are renting from them.
It is recommended that you obtain the serial numbers for each piece of equipment to ensure that you are returning the correct equipment.
If you had an internet-only plan, you were most likely only using the modem and router or the combo gateway device. However, if the TV service was included, you must return the Spectrum cable box and, if subscribed to, the DVR.
CONCLUSION
There are a few things to keep in mind when returning the equipment. When it comes to UPS, business clients cannot return more than ten devices at once.
It is only suitable for individuals and consumers. The only major disadvantage of using the US Postal Service is that it takes longer to deliver the package to Spectrum. You may also be charged for Unreturned Equipment Fees.
To avoid this, call Spectrum and inform them of the package. Keep the receipt as proof of purchase. If you choose FedEx delivery, contact Spectrum and request a shipping box.
In addition, the return label must be attached to the package. If you have any further questions, please contact Spectrum Customer Service; I'm sure they'll be happy to assist you just as much as I was.
Frequently Asked Questions
How do I return equipment to Spectrum?
Cover the original shipping label with the prepaid return label. Bring the packaged equipment to any location in the United States. Postal Service Administration. Make use of the U.S. Use the Postal Service Locator to find the nearest post office to you. The United States Postal Service will ship the equipment back to us at no cost to you.
Do you have to return equipment if you cancel Spectrum?
You are responsible for returning any leased equipment, including modems, routers, Spectrum receivers, and any auxiliary equipment provided by Spectrum, if you intend to disconnect or downgrade any Spectrum services. Any remotes or cables that came with your equipment are not required to be returned.
How long do you have to return equipment to Spectrum?
Again, Spectrum has stated clearly in their Terms and Conditions that you must return the equipment within 15 days of confirmation. If you do not complete it within 15 days, they will charge you a fee.